volunteer in Tanzania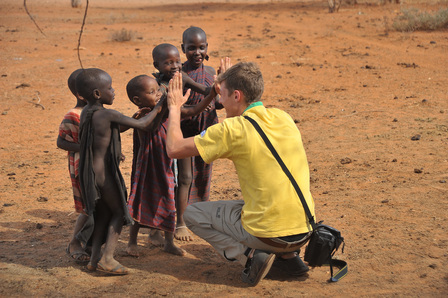 When you think of volunteering in Africa, think of the following: What do you want to gain out of your volunteer experience? What do you want to learn about yourself and Tanzanian culture? What inspires you and drives you to come



to Afric



a to volunteer? The answer to those questions will help us make your volunteer experience in Africa be the most amazing, life-changing thing you've ever done.


Foot2Afrika places volunteers with our community organizations and programs.
We only work with committed, long-term volunteers who are interested in working for
6 months or more
. For short-term placements (3 weeks to 6 months), please visit our affiliated partner,
Old Moshi Hostel
.

Unlike other volunteer programs, Foot2Afrika has
no



placement



or program fees
. Foot2Afrika will also cover your room and board (2 meals/day), so you're only responsible for your transportation, visa, and other expenses. This means you are free to c

reate the volunteer experience you want

,


designing


a program that fits your interests and skills.
---
what you'll do
As a volunteer in Tanzania, there are a number of different things to do. Some of our needs are:
Administrative help - Organize our work, help answer e-mail questions, create reports, write grants, etc.
Teaching and curriculum development - Based on your skills and interests, you can teach students, train teachers or health workers, and hold workshops. You can also create curriculum for future volunteers and teachers to use.
Business development - Help our programs create or implement business or fundraising plans.
Construction - Help with construction projects, particularly the building of the Moshi Youth Village.
If you have other interests, we'll work with you to see how we can use your skills.
Contact us
to start the conversation.
what to expect

What you should expect during your volunteer stay with us:

A hands-on volunteer experience working with locals. All of our projects have our volunteers working on the ground with disadvantaged Tanzanians. These mostly women and children struggle every day, but are enthusiastic and active about changing their futures.
A program designed by you to fit your skills and interests. You know yourself best. That's why F2A strives to work with you to place you where we think you're most valuable, based on the information you give us and our vast knowledge and connection to the community.
Support from the Foot2Afrika staff. Although our staff is small, we want to welcome you to Tanzania and into the Foot2Afrika family. Before you arrive, we'll answer your questions, help with your paperwork, arrange for airport pickup and lodging, and help you obtain your visa (should you desire). Once in Moshi, we'll make sure you feel safe, give you all the information you need to have a successful volunteer experience, and teach you about life in Tanzania.
An eye-opening peek into real Tanzanian culture and everyday life. We love our country, and we love sharing it with other people. That's why you'll get an unforgettable experience with Foot2Afrika.

To learn more about volunteering in Tanzania with us, read about

our work

, and

contact us

with any questions.

"Go to Africa because you don't need to live by a watch… because the dala dala makes a morning commute exciting... because children who seemingly have nothing will give you everything... because you will be welcomed like family. But if you go to Africa with some idea in your mind that you are going to save Africa, I think you will quickly realize that Africa will save you."
-Noelle Gentile, USA, Volunteer July 2010

---