Tumona Secondary School
the


story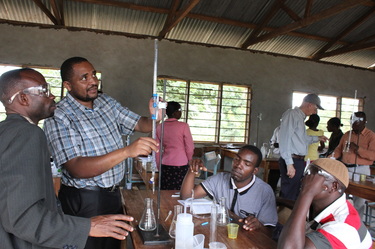 Tumona Secondary School is a secondary school with students ages 13-18. The school is located in the village of Oroli, outside of Moshi. Students at Tumona Secondary School come from poor families that rely on smallholder and subsistence farming for survival.
The school was opened in June 2007, mainly because of local villagers' labor and contributions. When it began, 130 students were selected to attend, but only 95 were able to due to school fees and household responsibilities. Today, the school serves about 325 students per year. However, the school still faces some serious problems, including inconsistent enrollment, inadequate government provision of teaching professionals, shortages of books and materials, and lack of access to adequate food, water and sanitation. The school is in need of several construction projects, including a teachers' office, finishing unfinished rooms, latrines, a science laboratory, and a kitchen. Many students attending Tumona do not have enough to eat, and come from families stilted by poverty, HIV, and malnutrition. School fees are the strongest deterrent to attending secondary school.
---
accomplishments
In 2009, Foot2Afrika partnered with Tumona to create a conducive environment for the children to learn. Today, Foot2Afrika and Tumona Secondary School together have made tremendous impacts:

Construction. Foot2Afrika and its partners have built and repaired classrooms, a teachers' room, headmaster office, and science laboratory. Long term, Foot2Afrika is working on creating a computer room, and recently raised enough funds to provide electricity at Tumona. The next step will be training teachers and integrating technology into the curriculum.
Health. Foot2Afrika implemented the distribution of sanitary towels to encourage girls to attend school, even during menstruation. Volunteers also conducted health education programs benefiting over 3,000 students in five secondary schools, including Tumona. Question boxes were created to overcome the stigma of talking about health and sexuality, and allow students to participate and raise concerns anonymously. Nurses and healthcare volunteers held weekly sessions to address questions, screen videos, and provide essential information about health and human development.
Teacher Training. Foot2Afrika and its partners have held several teacher development workshops over the years, especially in the subjects of science and chemistry.

"Universal education is not only a moral imperative but an economic necessity, to pave the way toward making many more nations self-sufficient and self-sustaining."


-Desmond Tutu
goals
There is still much work to be done to provide students with a comprehensive learning environment.
Girls' latrines. Tumona Secondary School and Foot2Afrika plan to build private latrines for girls. These latrines will have washing facilities and a large private barrier. Lack of sanitary products and privacy during menstruation keep many girls from attending school, which directly affects their performance. Latrines will give girls a chance to participate fully.
School kitchen. The current kitchen was poorly constructed and is inadequate to the nutrition needs of the school. It relies on a wood fire to heat food cooked in a pot supported by rocks. This is a fairly standard arrangement for village kitchens, but it has various drawbacks; the most salient is that it is very inefficient, requires a large supply of firewood, and damages the health of professionals cooking and inhaling smoke. Cooking over firewood is costly, a public health hazard, and a major cause of deforestation in Africa.
Dormitories. Students need to wake up at 5am or earlier in order to walk five to eight miles to school. Walking in the dark makes girls particularly vulnerable and deters participation in schools.
Staff houses and administration block. The teachers and staff are fundamental for the progress of the school, and need space to plan lessons, do paperwork, and a place to live close to the school.
Meals. Most students cannot afford the fees for school lunches, and therefore go without. An alternative is needed to the daily ration that provides a midday meal for all students. This would make an extraordinary impact on concentration, academic attainment, enrollment and attendance. Farming equipment is also needed for Tumona to grow beans and maize, staple ingredients that are essential to the midday meal and function of the school.
how you can help
Volunteer.
Lend your construction expertise to a construction project. Create and implement teacher development workshops to increase the capacity of Tumona's teachers. There are many things you can do as a volunteer.
Donate.
You can donate sanitary towels for girls, or fund a much-needed construction project. School supplies, such as textbooks and lab equipment, are also valued items.
Fundraise.
Help fund one of Foot2Afrika and Tumona's current or upcoming projects.
---