Rudisha Women's Group




the history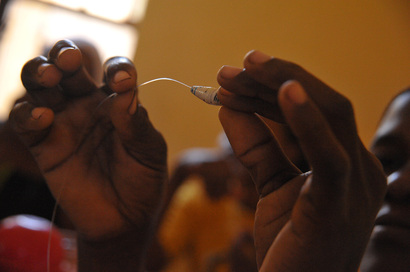 Established in 2010, Rudisha Women's Group was started by women to empower women and give themselves the opportunity to earn an income and improve their livelihood. Ten women, led by Aisha Juma, work 5-6 days per week making handcrafts such as bags, laptop cases and, recently, jewelry. The products are largely made from recycled materials such as used jeans and cement sacks for the bags, and newspaper for the jewelry. They are then sold in local and international markets for a profit.
All of the participating women have families to care for, and most are single mothers or widows. In addition to working in the group, they must each care for their (often extended) families. They live in mud houses with no water or electricity, and must spend time fetching water, doing laundry, and cooking over an open wood fire. The money earned from selling their products helps ease daily life.
Foot2Afrika works closely with Rudisha Women's Group to provide financial support, business advice, and training. They also help distribute products to both local and international markets.
---
accomplishments
Since its inception, Rudisha has grown and accomplished many things:

Rudisha started by making simple bags out of recycled goods, such as cement sacks and used jeans, and now they are able to create their own batik designs.

Foot2Afrika volunteers taught the women how to make jewelry out of newspaper, enabling the group to expand their product base.

Rudisha started an agricultural project to grow and sell maize. They recently installed a fish pond, and will soon commence fish-farming.




All of the women have families to care for, and they recently moved into a new workshop facility with a nursery attached so their young children can go to school as the women work.

Rudisha Women's Group and Foot2Afrika meet regularly to discuss new ideas and create business plans. Foot2Afrika volunteers have been a great asset in generating new business ideas and training the women in business practices and maternal health.

"...I am highly impressed by the strength of these women. They have had a tough time but they are still fighting and eager to



start



something new, learn more and improve themselves."
-Katharina, Waka e.V for Women and Kids in Africa


goals



The goal of the group is to achieve economic independence and alleviate poverty at a grassroots level through the sustainable growth of small women-owned businesses, and at the same time establish mutual understanding among people of diverse cultures. Although the women have made many gains, it still struggles to completely self-sustained. Rudisha Women's Group's current goals are:
Earn enough money through their projects to cover both business and personal expenses of all the women, including their children's school fees.

Increase the number of business opportunities by creating new projects and increasing the quality and visibility of current projects.

Increase sales of their products in Moshi and foreign markets.

Begin to develop a plan and eventually start a chicken project.

how you can help
Volunteer.
Rudisha is eager to work with overseas volunteers on new business ventures and skills they might be able to use. Volunteers can help create business plans, research new markets and conduct trainings on creating new products.
Donate.
You can make a donation of design crafts such as thread, buttons, beads, or other interesting crafts the women might be able to use for their products.
Sell Items.
Do you have a new market where Rudisha's products can be sold? Are you holding a fundraising event for Foot2Afrika? You can have items shipped to you, help sell them, and spread the word about this amazing group of women.
---