Moshi Youth Village
th







e sto







ry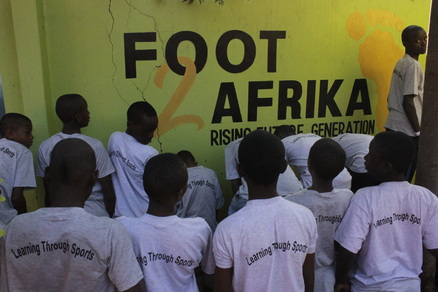 Moshi Youth Village is a community educational center that will provide free education, counseling, vocational and life-skills training, and community support to several rural communities adjacent to Moshi, Tanzania. By focusing on key skills and peer support, the Moshi Youth Village will provide an innovative approach to the education of vulnerable youth that will empower and enable them to create a path to economic self-sufficiency.
A new visionary approach to community-based education, Moshi Youth Village is a comprehensive community education centre, working with adults and children for whom the formal education system has failed. Once completed, it will provide free education to children, youth and adults in literacy, health, nutrition, personal finance, agriculture, trades, arts and entrepreneurship, as well as counseling and peer support. The centre will also act as a community meeting place.
Recognizing the need in their community, in 2014, the villages of Manushi and Narumu, located outside Moshi, donated ten acres of land for Moshi Youth Village. Moshi Youth Village will work with the community to fill the gap between education and employment by enabling students to develop their skills, confidence, resilience and creativity. It will enable them to chart a path to a more prosperous life; and by strengthening the community's economic stability it will help the community provide for its own children.
---
the need
Young people in the Kilimanjaro region of Tanzania have few educational options, no social safety nets and little economic opportunity without the skills that only education can supply. Although eager to learn and create change for their community, these youth face enormous challenges such as underperforming schools, poverty and the loss of one or both parents; the large majority fail the national examinations and drop out of school.
There is little economic opportunity other than to become day-laborers or subsistence farmers like their parents. Hoping for better opportunities, many young people run away to town, where they may fall into drug abuse, violence, criminal behavior and homelessness, creating a vicious cycle of poverty that is almost impossible to escape.
accomplishments

In support of the village, the Manushi-Narumu community, which is just outside of Moshi, donated 10 acres of land for the Moshi Youth Village through their village cooperative society in early 2014.




A master plan has been designed by an architect who now serves on the Foor2Afrika board.




Foot2Afrika has formed a construction committee composed of local workers from the community, who will build Moshi Youth Village.

Foot2Afrika has identified and secured teachers for photography, arts, English, computer science, business, sewing and tailoring, and agriculture.
A network of service providers who serve at-risk children and youth has been created.
current goals
With the acquisition of the land, Foot2Afrika is eager to begin construction of the first building of the village. Foot2Afrika and its supporters have been fundraising to begin construction on phase I in early 2016, which consists of:




$33,180

Total cost for two four-classroom building



$39,690

Total cost of administrative block (offices and staff room)



$87,360

Total cost of a kitchen and a large space suitable for dining, art gallery, and performing space



$7,200

Total cost of toilets and washing facilities




Phase II will consist of:

$11,760

Total cost of a classroom equipped for art and music



$48,600

Total cost of a small house for visitors and volunteers



how you can


help



Fundraise.

There are lots of different ways you can help us raise the money needed for building the Moshi Youth Village. Host a dinner, hold an online fund drive, and spread the word about MYV!

Volunteer.

If you're interested in construction work, we plan to commence building in mid-2015. We are also looking for volunteers to teach once we complete building, plan curriculum for lessons, and work on business and marketing plans for future fundraising and building.

Donate.

Every dollar you donate will make a difference in the lives of community members. What your donation can do:
$5 provides a month's worth of arts and craft supplies for one student.
$20 buys one first aid kit for a health training.
$100 equips a classroom with five chairs and five tables.
$1,000 gives a photography and filming class all its equipment.
---