Maasai Village Conservation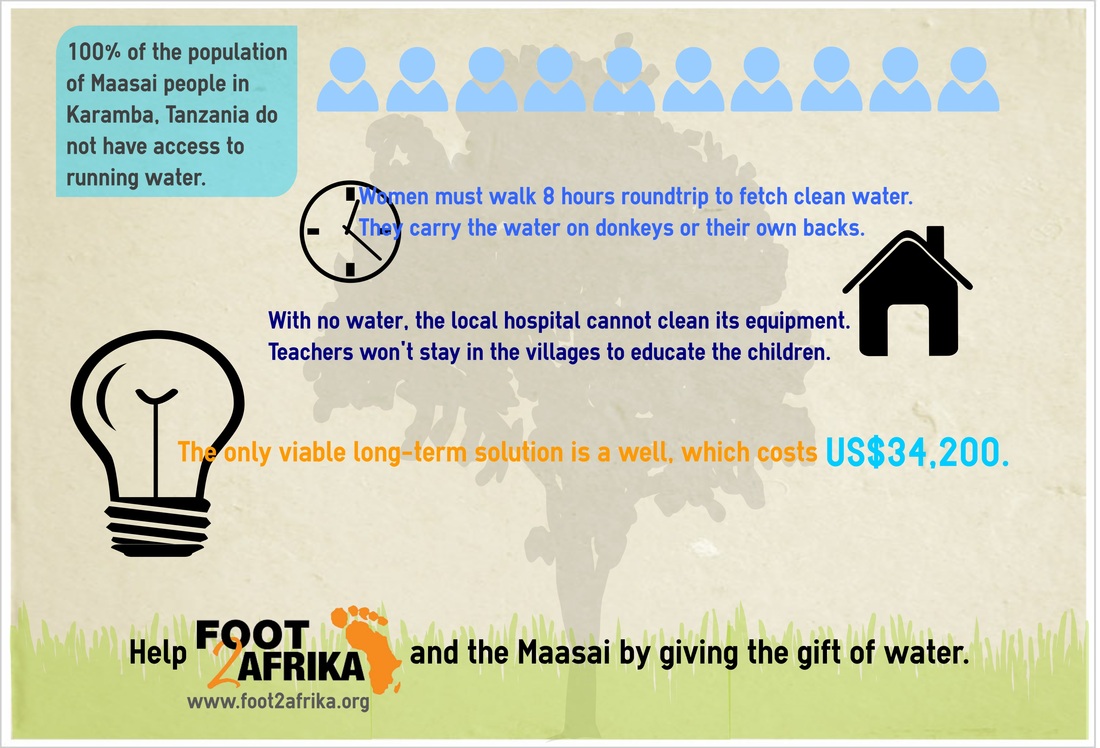 the facts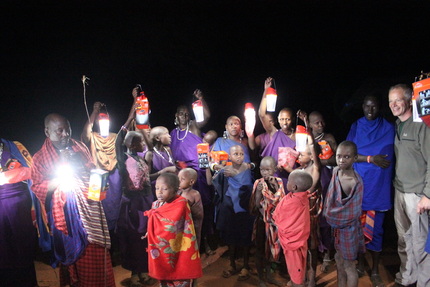 The driving force behind Foot2Afrika were the Maasai children that founder Sadock Johnson encountered as a safari guide. These children were always begging for money, food or water, and Johnson decided he wanted to do something to help his community. Johnson has been working with the Maasai ever since. Foot2Afrika is currently working with 64 Maasai bomas (villages) in the area of Karamba, Tanzania. The villages lie between two known national parks, the Kenyan Tsavo West National Park and Tanzanian Mkomazi National Park. The need of these villages is dire. Out of a population of over 100,000 people, 21% live in poverty, and a staggering 76% live in extreme poverty. Every single person lives without running water, latrines, or electricity, and they all cook on dangerous, unhealthy wood-burning stoves. The illiteracy rate among men is 72%, and for women, 93%. For the entire population, there is only one nurse.

With no running water, Maasai women must walk eight hours roundtrip to fetch water, as nearby water is contaminated with mud and animal feces. The local hospital has no water to clean their equipment, people have no water to take medicine, and nursing mothers don't have drinking water. Teachers refuse to stay in the villages without water, affecting the children's education.

---


accomplishments



Foot2Afrika has provided immediate need for the Maasai, such as water filters, solar flashlights so children can do their school work at night, medical supplies, and food. However, more long-term solutions are necessary, and we are working on finding these solutions and making them happen. Foot2Afrika has been working with the community and has had some success in the following:
installing solar panels in the hospital where people with cell phones can pay a small fee to charge their cell phones, generating income for the hospital.
doing community-based work such as clean-up, environmental conservation and awareness campaigns
creating awareness on alcohol, drugs and substance abuse
donating books and other educational supplies to the school
sponsoring the salaries of two local Maasai teachers, and working on raising money to sponsor four additional local teachers
promoting gender equality, human rights, and sustainable development through programs such as school nutrition, local work camps, skills-based training and community-based campaigns
providing monetary support for food for the nursery
supporting existing government and law enforcement agencies in stemming illegal activities that threaten the area's ecosystem.
current goals
Foot2Afrika has conducted research and met with the villagers to find the areas they think Foot2Afrika is most needed. Through this researc



h, w



e have



identified a number of areas to work on:

Water. Our number one priority, Foot2Afrika is working with the Maasai, its partners, and overseas volunteers to obtain funding to drill a well. The drilling and pump installation is estimated to cost US$34,200. With ready access to water, the Maasai can begin enclosed agriculture projects and introduce more vegetables to their largely meat diet. This also leads to better health and food security.
Health Improvement. There is currently only one nurse serving the entire population 24/7. Foot2Afrika works with health volunteers to provide health education, first aid, and HIV/AIDS awareness. Alcohol use is a problem within the villages, and measures need to be taken to address the issue. It is also Foot2Afrika's goal to work with the Maasai to hold workshops on the cultivation and preparation of local natural medicines that are abundant in the area and will increase the community's overall health.
Education Improvement. There is one school in the area with three teachers serving over 200 students. However, there are over 500 students who are of age to attend school. Factors such as long distance and lack of money prevent most children from attending school, and teachers from other towns don't want to stay in the community because of the lack of water Foot2Afrika aims to create a dormitory for the children to stay during the week and attend school, along with a nursery so children can begin school earlier. F2A is working with the government to secure more posts for teachers.

"Here is your country. Cherish these natural wonders,



cherish



the natural resources, cherish the history and romance as a sacred heritage, for your children and your children's children."
-Theodore Roosevelt
how you can help
Volunteer.
Assist Foot2Afrika by holding health education and life skills workshops, creating materials to promote sustainable development, and making plans for income-generating projects.
Fundraise.
You can hold a fundraiser to help the community buy a water pump, pay for teachers' salaries, or build a dormitory.
Donate.
The Maasai's need is great, and your donation will be an invaluable help to our many projects with them. The community has also requested donations of books for all ages and other school supplies.
---